The 2016-17 Season at TIS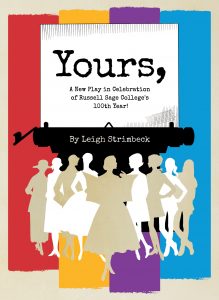 Yours,
Oct. 6-16, 2016
By Leigh Strimbeck
Directed by David Baecker
A Centennial celebration … a hundred years of history … performed with flair. Through Founders' letters, student poems and editorials from The Quill, you'll hear the heartbeat of Russell Sage College. Come see what has changed and what has stayed the same in this Centennial "herstory."
Recommended for ages 12 and up.
Alice in Wonderland
Nov. 30-Dec. 15, 2016
By Lewis Carroll
Directed by Michael Musial
Lewis Carroll's unflappable young heroine takes a tumble down an enchanted rabbit hole to an off-kilter world of mock turtles, dancing flora, punctual rabbits, and mad tea parties. Whimsy and wordplay are the order of the day in this imaginative musical adaptation of a family favorite!
Recommended for all ages!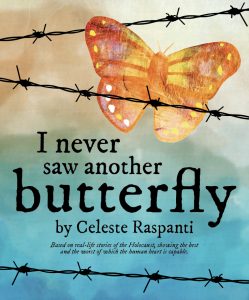 I Never Saw Another Butterfly
Feb. 24-March 5, 2017
By Celese Raspanti
More than 12,000 children passed through the Terezin Concentration Camp between the years 1942-1944 and only about a hundred were still alive when Terezin was liberated. Raja lived through it all, teaching the children when there was nothing to teach with, helping to give them hope when there was little reason for hope. This play is her story, showing the best and the worst of which the human heart is capable.
Recommended for ages 10 and up.
Fri. Feb. 24, 7:30 pm
Sat. Feb. 25, 7:30 pm
Sun. Feb. 26, 2 pm
Tues. Feb. 28, 10 am
Wed. March 1, 10 am
Thurs. March 2, 10 am
Fri. March 3, 10 am, 7:30 pm
Sat. March 4, 7:30 pm
Sun. March 5, 2 pm (Sign Language Interpreted)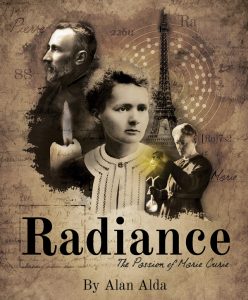 Radiance: The Passion of Marie Curie
April 5-15, 2017
By Alan Alda
Directed by David Bunce
With backbreaking work in a ramshackle lab in Paris, Marie Curie and her husband Pierre achieve a revolutionary understanding of radiation and share a Nobel Prize in physics. After her beloved Pierre dies in an accident, Marie is plunged into depression, but physicist Paul Langevin gives her the strength to return to her work and she receives a second Nobel Prize, this time for chemistry.  A stirring look at the challenges and passions of a scientific pioneer.
Recommended for ages 14 and up.
Wed. April 5, 10 am
Thurs. April 6, 10 am
Fri. April 7, 10 am, 7:30 pm
Sat. April 8, 7:30 pm
Sun. April 9, 2 pm (Sign Language Interpreted)
Wed. April 12, 10 am
Thurs. April 13, 10 am
Fri. April 14, 10 am
Sat. April 15, 7:30 pm
Freckleface Strawberry
May 31-June 11, 2017
By Julianne Moore
A musical based on the beloved New York Times bestselling book by Oscar winning actress Julianne Moore. With fun music, awesome dancing… and a freckle face full of laughs, your whole family will love this brand new musical for all ages . . . freckles or not!
Recommended for all ages!
Wed. May 31, 10 am
Thurs. June 1, 10 am
Fri. June 2, 10 am
Sat. June 3, 2 pm
Sun. June 4, 2 pm
Tues. June 6, 10:30 am
Wed. June 7, 10 am
Thurs. June 8, 10 am
Fri. June 9, 10 am, 7:30 pm
Sat. June 10, 2 pm
Sun. June 11, 2 pm (Sign Language Interpreted)
---
Greenwood: An American Dream Destroyed
What: Staged Reading of Greenwood: An American Dream Destroyed
Where: Meader Little Theatre, Russell Sage Campus, Troy, NY
When: Friday March 17, 7 pm; Saturday March 18, 2 pm
Who: Play by Celeste Bedford Walker, Directed by Lynnie Godfrey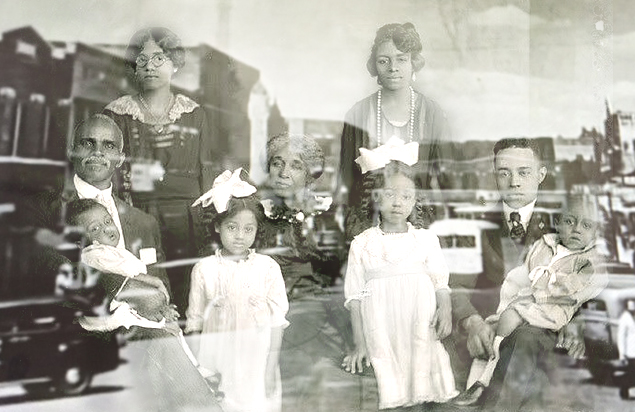 The Theatre Institute at Sage (TIS) announces a staged reading of the rarely-produced play Greenwood: An American Dream Destroyed by Celeste Bedford Walker. The reading is directed by Lynnie Godfrey,  the inaugural artist of the Scrimshaw Distinguished Visiting Artist Fund. Godfrey, an actress, singer, director and producer based in New York City, is at Sage for a week-long residency thanks to the generous support of the fund established by Susan C. Scrimshaw, President of The Sage Colleges.
This two-act drama tells the story of events surrounding the 1921 race disaster in Greenwood, Oklahoma. Greenwood, the premier Black Boomtown of its era, was referred to as the "Negro Wall Street", and had successfully achieved complete economic independence from its neighbor Tulsa, Oklahoma. That all ended when 14 blocks of the town were burned down in one night. Follow the progress, success, joy and prosperity of the township of Greenwood and eventually the story of its demise.
Greenwood is an important part of Black history, but more importantly a significant part of American history. In fact, the new African-American history museum in Washington, DC has dedicated an entire room to the history of Greenwood, Oklahoma.
The staged reading will be directed by Lynnie Godfrey. She will be joined by a number of professional actors from her NYC ensemble, The Essence of Acting. Godfrey says, "I think that the Arts; music, visual, theatre, spoken and written, to name a few, are wonderful forms of communication. It can be through these art forms that we learn about one another and lessen our gap of ignorance about each other. Greenwood: An American Dream Destroyed tells of the 1921 Disaster in Tulsa/Greenwood, Oklahoma by people who might have lived through that kind of holocaust.  The telling of that story should strengthen and unite us ALL!"
Godfrey is the founder and Executive Director of GodLee Entertainment, Inc. She has several reasons for running her own production company: "I thought there was a need to see plays that reflected a life that were not being produced on the stage. What life? Aspects of my life… a life that I never saw when I would go to the theater; aspects of my history that I never saw in theater or when I was offered roles as an actor.  Or, as Lloyd Richards would say to me when I was his student: 'If you don't see it, create it.'"
There will be talkbacks after performances on both March 17 and 18. This is a reservation only event.
This project is also possible with the support of  Student Life Association; History and Society; co-produced with Jean-Remy Monay at Soul Rebel Productions and the Black and Latina Student Association.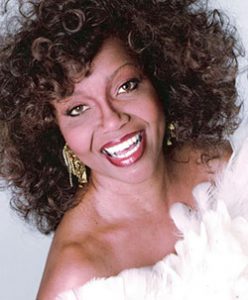 About Lynnie Godfrey: She has been performing since the age of three, starting with family members at Pentecostal Churches in Harlem and Brooklyn. After graduating from Hunter College, she went onto Broadway in the musical revue EUBIE! Ms. Godfrey has performed in nightclubs and theaters from New York to England. She has appeared in television and film. Credits include: V.I. Warshawksi (with Kathleen Turner), a starring role in 704 Hauser (a Norman Lear sitcom), numerous television guest spots, an animated series, and August Wilson's Gem of the Ocean. She has tirelessly pursued a career in directing, music and acting, never preferring one over the other but loving all three.
About Celeste Bedford Walker: A Houston-based playwright and the winner of several prizes, she is best known for Camp Logan, her historical drama based on the 1917 riot by black soldiers in Houston.  The New York Times has praised her work as "well-crafted…vigorous social satire." Camp Logan was performed at the Kennedy Center and heralded by the Washington Post as "a textbook example of how to simultaneously entertain and educate an audience."
In February, 2017 Ms. Walker was invited into the Texas Institute of Letters, a distinguished honor society founded in 1936 to celebrate Texas literature and recognize distinctive literary achievement. The TIL's membership consists of the state's most respected writers – including winners of the Pulitzer Prize, National Book Award, and MacArthur "Genius" grants and many other awards. Membership is based on literary accomplishments and is granted only though an election by existing members.