SONGS FOR A NEW WORLD
by Jason Robert Brown
Directed by Michael Musial
September 25–26 @ 7:30pm · Schacht Theatre
This song cycle presen
tation will be a live, socially distanced performance for a limited number of reserved seats.

It's about one moment. It's about hitting the wall and having to make a choice…or take a stand…or turn around and go back. From Tony Award winner, Jason Robert Brown, this moving collection of powerful songs examines life, love and the choices that we make. Recommended for ages 13 and up.
A CHRISTMAS CAROL
Original story by Charles Dickens
Adapted for Zoom by Katie Pedro
Directed by David Baecker
Opening Night Watch Party and Talkback: December 1 @ 7:30
Available to stream each following day through January 6

A new adaptation of this Charles Dickens' holiday classic comes to life in Zoom format. Join Tiny Tim, Bob Cratchit, and, of course, Ebenezer Scrooge, on a fantastical journey through Christmas Past, Present, and Future. This enduring story of hope and redemption will be told in partnership with students from local school districts. Recommended for ages 8 and up.
DEAR LIL'
by Morgan Heyward
Presented in conjunction with Illuminate Theatre
Available for school groups to stream January 18 through February 26
Dear Lil' is a true story inspired by author Morgan Heyward's time as a theater major at Russell Sage College. In this one act solo performance, Heyward reflects pivotal moments in her life as she packs her dorm room to leave campus for the last time. Throughout the course of the play Heyward recounts her experiences being raised  in a mixed race household, growing up in a diverse school district and attending a predominantly white college. Dear Lil' defines the process of finding  your voice as a young person in a society obsessed with race. Recommended for ages 14 & up (language and mature content).
THE 39 STEPS: A LIVE RADIO PLAY

Original Novel by John Buchan
Adaptation by Joe Landry
Directed by David Baecker
Inspired by Alfred Hitchcock's classic tale, this live radio play is a fast-paced ride through 1930's London. Follow Richard Hannay as he encounters epic train chases, a feisty love interest, and an unexpected murder. He has his work cut out for him as he searches for the truth about The 39 Steps. Recommended for ages 10 and up.
WELCOME TO BEN'S LIGHTNING ROUND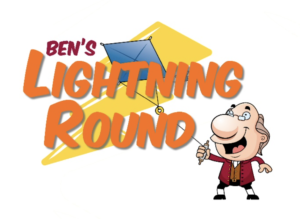 True or False: Ben Franklin is alive and well, and hosting a Zoom game show…TRUE!
Who doesn't like history? What better way to learn history than from someone who lived it? Ben's Lightning Round is a new 40-minute show for grades K-5. Join founding father Benjamin Franklin in a fun, interactive game show that guides students through key events in history. Ben's Lightning Round is a game where Ben is the host and your students are the contestants!
Due to the interactive nature of the show, Ben's Lightning Round is limited to four "Contestants" per performance. One class is one "Contestant".
Districts wishing to reserve for multiple classes should request "Contestant spots" in the same performance, If you need more than 4 contestant spots we will add a second performance on the same day.
Schools booking an entire performance (all four "Contestant Spots" in the same performance) will receive a discount.
Ben's Lightning Round is for K-5. We will group classes by age as best we can, attempting to keep some performances Kindergarten–2nd Grade and others 3rd–5th Grades.
Performances are at 10:00 a.m. on June 9, 10, 11 and June 15, 16, 17, 18.
Saturday, June 12 and 19 at 2:00 p.m
Sand Lake Center for the Arts