The James L. Meader Little Theater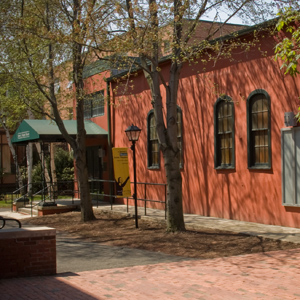 This intimate venue is ideal for smaller productions and presentations. A jewel-box proscenium stage with 36 foot wide by 27 foot deep playing space in front and tiered seating beyond. The floor has wing space left and right, an upstage crossover and can be used as a modified black box. The Meader Little Theatre has two large dressing rooms with separate bathrooms and an independent box office and lobby. Marley Dance Floor not included.
Capacity: 136 Seats
Rental: Week/ $1,750         Day/ $300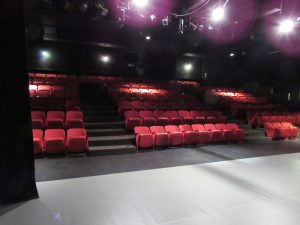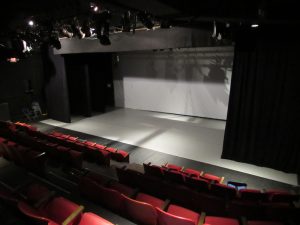 ---
The Schacht Fine Arts Center Auditorium

The Space: Ideal for big events, this theatre is a 620 seat proscenium house. The stage has wing space left and right and load-in access. Proscenium width is 36 feet and depth from fore-stage to Cyc is 30 feet. The Schacht Fine Arts Center Auditorium has six large dressing rooms with 2 of them and a green room included in the base rental fee (3 more dressing rooms are available for an additional fee). Independent box office, lobby, & restroom access are also included. Marley Dance Floor not included.
Capacity:  620 Seats (Balcony Unavailable)
Rental: Week/ $3,750       Day/ $750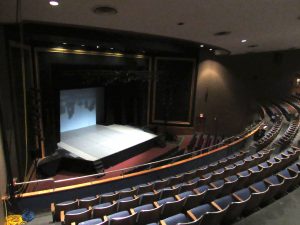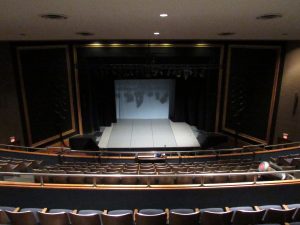 Rental Inclusions and Requirements
Included:
In Each Auditorium – Light Board, lights as hung; Sound Equipment for Playback.
In Each Building: 2 dressing rooms, green room, lobby, independent box office, and restroom access included in are included in the base rental fee for each theatre space.
Required:
Staffing – A minimum of 1 (Little Theatre) or 2 (Schacht) TIS students or graduates of the Russell Sage College Creative and Performing Arts program must be hired as house management at a minimum of $15 per hour while the rental group is in the building on evenings or weekends. This is required for all Schacht and Little Theatre Rentals and must be paid directly to the students/graduates, and cannot be combined with the rental amount owed to the Theatre Institute at Sage. It is at the discretion of the Theatre Institute at Sage how many students will be required per rental agreement, contingent upon the size and requirements of the event.
Insurance Rider – All rental groups must present an insurance rider in advance of the rental period.
If interested:
Website: http://www.sage.edu/theatre/
Contact: Theatre Institute at Sage (518) 244-4504
Check if your date is available
Fill out a rental inquiry form below. Include desired dates, project description and audience projections as well as any other information or rental needs you wish to communicate.
NB:  Events and organizations that conflict with concurrent Theatre Institute at Sage (TIS) programming or the mission statement of TIS or Russell Sage College will not be considered.
Please allow 7-10 business days for a response.
Directions to the Meader Little Theater and the Schacht Fine Arts Center
Parking at the corner of 1st St. & Division St. in Troy, NY. Entrance across from 92 1st St. through McKinstry Courtyard.
Or parking Lot adjacent to Division Street and across street from gate entrance at 5 Division Street.
5 Division Street
Troy, NY
12180
Map and Directions