Welcome!
Russell Sage College and the Theatre Institute at Sage offer a Bachelor of Arts in Theatre and a Bachelor of Science in Musical Theatre.  We invite you to join us on this important step in your theatrical career.
The Theatre Institute at Sage (TIS) combines practical artistic experience with a solid liberal arts foundation so that when you act, sing and dance you will have the knowledge of other disciplines to deepen your personal expression. Our degree programs provide students training in the creative process as well as theory and history.
Students are constantly active as performers, technicians, teachers and administrators. Our programs provide a spectrum of learning opportunities that will help you develop into a theatre professional with career options.
All students are required to do an intensive internship and work alongside amazing local, regional and international companies.
Our faculty are dedicated teachers and talented artists in their own right. Their experience and dedication has inspired the work of many Sage students and working professionals.
We are a small and friendly community located in historic Troy, New York, but only a few hours away from the artistic attractions of New York City, Boston, the Berkshires, and Montreal.
Come play with us! Your application is just a click away. We look forward to meeting you, hosting you at a Theatre Institute production or our annual Theatre Honors Weekend, and seeing your audition.
B.S. in Musical Theatre
The Bachelor of Science program in Musical Theatre at Russell Sage College is offered to those students who demonstrate excellence in acting, dancing and singing, and who are committed to professional musical theatre careers.
B.A. in Theatre
The Bachelor of Arts program in Theatre at Russell Sage College offers  training in the creative processes of theatre as well as the theory, the history of theatre, arts management, and stagecraft.
Auditions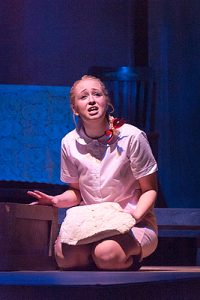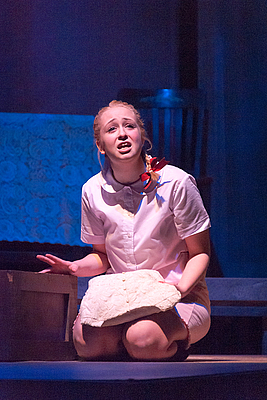 Students applying for admission into the Musical Theatre program must perform an entrance audition.
Please prepare the following materials:
Musical Theatre
Two memorized contrasting two-minute monologues from standard classical and contemporary dramatic literature.
Two songs — one uptempo and one ballad (accompanist provided – please bring sheet music).
Theatre
Two memorized contrasting two-minute monologues from standard classical and contemporary dramatic literature.
To audition, please contact David Baecker at [email protected]. Auditions may be conducted in person or online.